Join the PSP BLOG HOP today !
Saturday, May 07, 2011
I'm very happy to let you know that I'm a proud sponsor of the first annual
PSP BLOG HOP
So, here is my contribution:
I going to give 2 PTU kits to 5 lucky people.
(Winners choose the kits they want)
To participate, click
HERE
for a chance to win one of my prizes !
You can also click on one of the blinkies below to get the chance to win ton of cool prizes ! By the way, one very lucky person will win the sofware "
Paint Shop Pro X3 Ultimate
", offered by
Corel
!!!
So, do not wait to visit the
PSP BLOG HOP
and for participate in all that interests you !
* The deadline for entries has been extended to May, 15th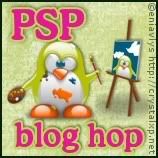 Je suis très heureuse de vous faire savoir que je suis un fier commanditaire
de la première édition du PSP BLOG HOP

Voici donc ma contribution:

Je vais donner 2 ensembles payants à 5 personnes chanceuses.
(Les gagnants choisissent les ensembles qu'ils désirent)
Pour participer, cliquez
ICI
pour avoir une chance de gagner l'un de mes prix !
Vous pouvez également cliquer sur l'un des blinkies ci-dessus pour obtenir la chance de gagner
une tonne de super prix ! Soit dit en passant, une personne très chanceuse gagnera le logiciel
«Paint Shop Pro X3 Ultimate", et ce, offert par
Corel
!!!
Alors, n'attendez pas pour visiter le
PSP BLOG HOP
et pour participer à tout ce qui vous intéresse !
* La date limite pour les inscriptions a été reportée au 15 mai